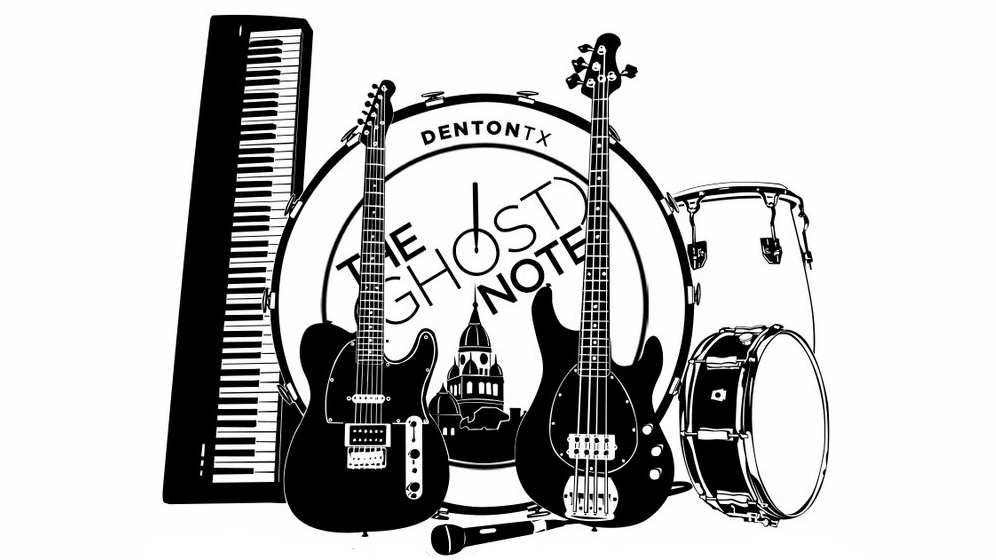 private lessons on drums & percussion, guitar, piano, bass and voice AND group playing opportunities through our (Ghost) Note Bands.
We work weekly with both beginners of all ages as well as experienced players looking to improve in a specific area of study. Whether your aspirations are to make music your life, pick up an instrument as a hobby or even learn an additional instrument, we create lessons covering essential repertoire and methods geared towards your unique needs, interests and learning style.
DRUMS • GUITAR • BASS • PIANO • VOICE
ALL AGES & LEVELS: lessons covering essential repertoire and methods CREATED FOR your unique needs, interests and learning style.
SINGLE LESSON
Depending on availability, single lessons may be scheduled in person or by phone as early as 1 day prior.
30 minutes: $35 60-minutes: $65
MONTH OF WEEKLY LESSONS
Weekly lessons are scheduled by the month on a reoccurring mutually convenient day/time each week. Monthly enrollment guarantees your desired weekly lesson time/day month-to-month, making it our most popular option.
Depending on your weekly lesson day you will receive 3, 4, or 5 lessons per month with one week off for the Spring Break, July 4th, Thanksgiving, Christmas/New Year holidays.
3 week month (Holiday off)
• 30-minutes: $105
• 60-minutes: $195
4 week month
• 30-minutes: $140
• 60-minutes: $260
5 week month
• 30-minutes: $175
• 60-minutes: $325
Learn and develop music in a group setting in preparation for a live video/audio recorded performance for family, friends and other students at The (Ghost) Note of which you will receive a copy.
12 WEEK SEMESTER
SPRING 2019: FEBRUARY 5th - MAY 4th, 2019 (enroll by 01.26.18)
3 monthly payments auto-billed on the 1st of each month: $235 a month for 3 months ($705 total)
or
1 upfront payment at start of semester: $665 [$40 savings]
☛ PLEASE CONTACT FOR MORE DETAILS AND TO ENROLL
ENROLLMENT FORM
STEP 1:
Please submit your name and email then read and sign our Music School enrollment policy form.
STEP 2:
IN-STORE @901 S. Elm St.: Complete enrollment with a (Ghost) Note team member by choosing a lesson package, pick a day/time and remitting payment via cash, credit/debit card in store or online.
ONLINE: If you're enrolling outside the shop please allow up to 1 business day for us to call you to answer any questions, schedule your first lesson and complete enrollment payment via credit card. ...Save our phone number so you know it's us calling: (940) 387-1111
If you have any questions please feel free to contact us.
DRUM SET/SNARE DRUM
A native of Irving, TX, Colby's love for drums began Christmas of his 4th grade year when he received a CB700 5pc Kit in black wrap (With only the finest brass cymbals!). After many hours of playing with CD's (AKA: bashing the cymbals into morphed versions of their former selves and breaking both pedals) a trip to the local music store was made and his love with playing drums/music and the world of gear was solidified.
Colby began playing and teaching locally in high school eventually attending and graduating in 2011 from the University of North Texas College of Music with a degree in Jazz Studies Music Performance. While at UNT Colby had the pleasure of studying under Ed Soph, Mike Drake, Ed Smith, José Aponte, Christopher Dean, and Paul Rennick. After graduating Colby continued his own local teaching practice and gigging throughout the Southwest playing an assortment of Jazz, Top 40, rock, CCM, and country with various musicians.
Since August of 2012 Colby has owned/managed and taught lessons at The (Ghost) Note Drum Shop & Music School in Denton, Tx.
Colby currently spends most of his time focused on The (Ghost) Note, teaching lessons throughout the week and working as a freelance drummer. Outside music Colby loves nothing more than spending time with family, his dog Indie, drinking exorbitant amounts of coffee, running and doing headstands.
DRUM SET/SNARE DRUM
Self-taught from a young age, Austin, TX native Joseph James began pursuing a career in music early in life. Playing guitar originally, after graduating high school drum-set would become the focus of his study.
With no prior marching, academic band experience, or theoretical understanding of harmony, he studied under professors Russel Scanlon and Craig Nazor at Austin Community College from 2009-2012. Eventually, with enough preparation he would be accepted to the University of North Texas in 2013 to pursue a bachelors in Jazz Studies with a focus on drum-set.
Meanwhile going out to jam sessions, performing and band leading locally in Austin from 2010-2013, he would perform with great musicians such as Harlan Hodges, Ephraim Owens, Michael Stevens, and Andre Hayward. During this time he studied under one of his first and ongoing mentors of drum-set, Brannen Temple.
While at UNT James had the opportunity to study with great professors such as Jose Aponte, Paul Rennick, and Ed Soph.
Teaching for one year now at The (Ghost) Note, James specializes in Rudimental Snare, Jazz, R&B, Rock and Roll, Hip-hop and Electronic styles for drum set.
Currently James resides in Denton, TX teaching at T(G)N, playing professionally in CCM and Top 40s Cover bands, playing for artists in the DFW area including Ronnie Heart, and Kirk Thurmond, while leading his creative experimental hip-hop project BODY ENGLISH.
GUITAR
Sean's passion for music was inevitable. Raised in Austin Texas, he was constantly surrounded by artistic community. Watching his father play the guitar are some of his first memories. At the age of 11, Sean seriously dedicated himself to learning the guitar. All throughout middle school and high school, while attending some of Austin's most recognized music programs as a saxophone player, Sean had taught himself guitar. By listening to classic blues, rock and roll, and metal records, by the time he graduated high school, he had a strong musical ear.
Sean moved to the DFW area in 2012 and has taken every opportunity he could to learn Dallas's musical spectrum. Since graduating from UNT in 2017 with a degree in Jazz Performance, Sean performs regularly with Jazz groups, R&B cover bands, Gospel artists, and his own creative projects around Dallas. By utilizing his unique arsenal of styles, Sean is ready to enhance the Denton guitar community with his teachings and his creativity.
Piano / Arranging
Born into a musical family, Colin began playing piano at the early age of five. His journey began with both classical and blues traditions, expanding further into jazz as he began playing trumpet at the age of 11. Excelling at both instruments through high school, Colin began focusing more exclusively on the piano, and in 2008 he moved to Texas to attend the University of North Texas (UNT) on scholarship for jazz piano. While at UNT, Colin played in the university's premier One O'Clock Lab Band, touring the US and UK as well as writing and playing for the band's "Lab '11" album. Since graduating with honors in 2012, Colin keeps busy as a Hammond B3 player for Kenneth Copeland Ministries and all over the DFW area, as well as serving as a multi-keyboardist in blues, gospel, soul, neo-soul, pop, and jazz bands all over Texas.
Bass - Electric & Upright
Mike Luzecky, a native of St Louis, Missouri, is a bassist/educator currently residing in the DFW metro-plex in Texas.
In 2007, Luzecky accepted a performance scholarship to attend the University of North Texas, where he had the opportunity to study with Lynn Seaton, Stefan Karlsson, Fred Hamilton and Jose Aponte among others.
While a student at UNT, he was honored to have performed a small Texas tour with NYC based guitarist Miles Okazaki (Steve Coleman, Dan Weiss). He was also fortunate to share the stage with legendary Cuban drummer Ignacio Berroa (Dizzy Gillespie, Charlie Haden) with the UNT Latin Jazz Ensemble. He graduated in 2012 with a performance degree in jazz bass.
Since graduating, Luzecky has had the privilege to perform with Josh Groban, "Blue" Lou Marini (The Blues Brothers, Blood, Sweat & Tears), NYC based saxophonist Adam Larson, Li Xiaochuan, and can be found playing regularly around the DFW/Austin areas with a variety of bands and artists (TOMKAT, Kaela Sinclair, Joel Cross, Tatiana "LadyMay" Mayfield, Stefan Karlsson, Stockton Helbing, The Night Above Us, The Southpaw Preachers, Fundamental, Horace Bray, Sky Window, Spenser Liszt, Dallas Horns).
Voice / Arranging / Composition
Isabel Crespo is a United States-born Costa Rican-Ecuadorian jazz vocalist, composer, arranger, and educator currently living in Denton, TX. In her original music, she draws on modern jazz, classical music, and trova as her main influences to create a unique and honest sound.
She was awarded a music scholarship to study Vocal Jazz at the University of North Texas, a leader in jazz education. During her time at UNT, Isabel had the opportunity to perform with the UNT Brazilian Percussion Ensemble, the Zebras Ensemble (Brazilian music), and the award-winning UNT Jazz Singers Ensemble, as well as notable artists such as Bobby McFerrin (Grammy Award-winning vocalist), Arthur Barrow (bass player for Frank Zappa), and Jo Lawry (backup singer for Sting.)
Isabel loves to collaborate; she has written, performed and recorded with many groups of varying genres such as jazz, Brazilian music, Afro-Cuban music, folk, classical, rock, traditional Peruvian music, R&B, fusion, and more.